Welcome to G Rated Foods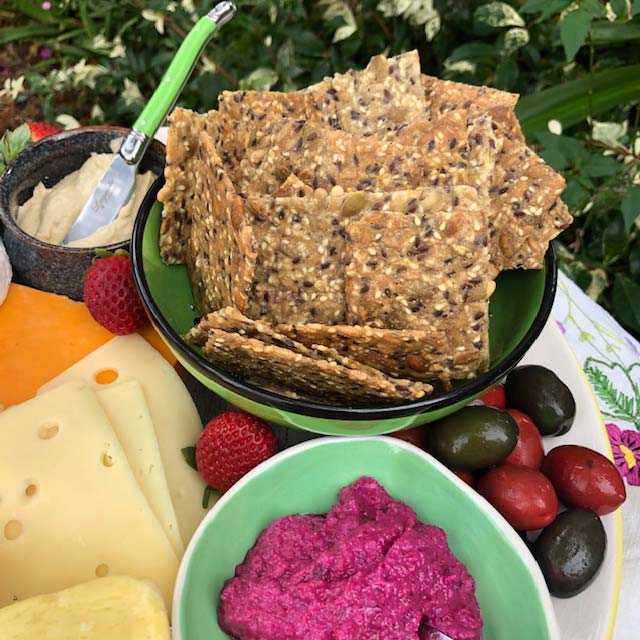 G Rated Foods are all about food for everyone. I specialise in crackers to satisfy all tastes
I started G Rated Foods to cater to the greater Brisbane area with delicious, healthy, super crunchy handmade gluten free seeded crackers, made from whole ingredients and free of nasty additives.
 G Rated Foods supplies crackers everyone loves, whether you are after small orders for the home pantry, bigger events, catering or hospitality venues where you need to buy in larger quantities.
My crackers are gluten free, nut free, egg free, dairy free, soy free and vegan. I love experimenting with my recipes, continually looking for different flavour sensations. My current range includes the following tantalising seeded cracker flavours: Original, Beetroot, Charcoal, Olive, Basil & Spinach and Sun-dried Tomato. Each flavour brings something new to the table from a colour and taste perspective.
Ordering
So, how can you get hold of some crackers?
You can currently find G Rated Foods at the following stockists:
Sheets on the Line 139 Latrobe Terrace Paddington
The Cheeseboard 97 Sandgate Rd Albion
Musette 25 King St Bowen Hills
Mumbleberry 92 Kedron Brook Rd Wilston
Mistress of Spice 152 Thistle St Gordon Park
The Woods 37 Blackwood St Mitchelton
Le Fromage Yard 7/611 Wynnum Rd Morningside
or order directly by emailing us at info@g-ratedfoods.com.au or via the form below.
Online orders can range from multiple smaller 150g packs to catering packs for bigger gatherings or hospitality venues.
Bars, cafes, restaurants, caterers and event planners can order 650g catering packs directly. All orders are invoiced and proof of payment is required before delivery.
Get in touch here!
We know you'll love them!!!