About Us
As a coeliac married to someone anaphylactic to nuts I have developed different recipes that suit both our dietary needs and are delicious to our family and friends without dietary intolerances.
These crackers are super tasty with the perfect crunch that makes them a favourite with everyone. I know some people have allergies to sesame seeds, and I'm happy to make crackers to order to cater for different intolerances if you have an event and want to serve the same crackers to everyone.
I envisage a time in the near future when gluten free people don't need to dread bland rice crackers and dry over processed gluten free bread. The time has come where venues can provide the same crackers on a tapas plate to everyone. A time when gluten free is not considered substandard but the norm with tasty, super crunchy crackers that are enjoyed by everyone.
Just like everyone loves a family movie, everyone loves my crackers … the perfect snack for some movie watching … just don't disturb the person next to you with the sound of the crunch!!
We know you'll love them!!!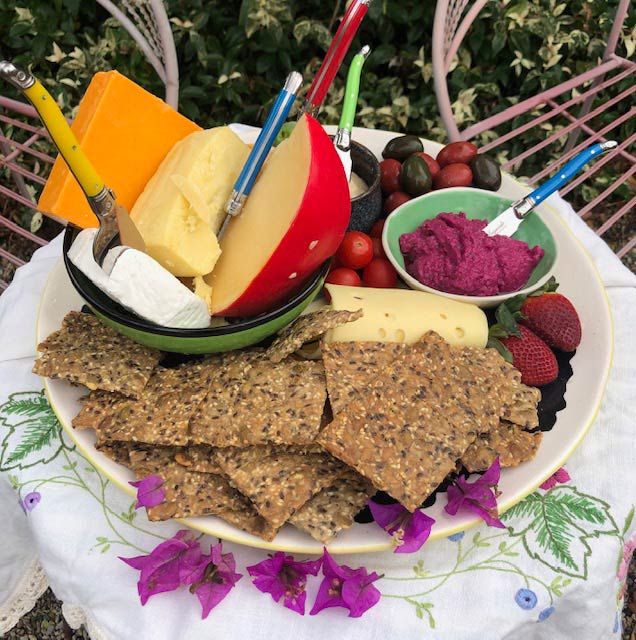 Ordering
So, how can you get hold of some crackers?
You can find G Rated Foods at the following stockists:
Sheets on the Line 139 Latrobe Terrace Paddington
Musette 25 King St Bowen Hills
Mumbleberry 92 Kedron Brook Rd Wilston
Mistress of Spice 152 Thistle St Gordon Park
Mary K Fresh Fine Foods, 240 Stafford Rd Stafford
Northshore Harbour Cafe 285 MacArthur Avenue Hamilton
The Deli by Hollie & Lola  12A Cominos Arcade 133-137 Redcliffe Pde Redcliffe
Le Fromage Yard 7/611 Wynnum Rd Morningside
or order directly by emailing us at info@g-ratedfoods.com.au or via the form below.
Online orders can range from multiple smaller 150g packs to catering packs for bigger gatherings or hospitality venues.
Bars, cafes, restaurants, caterers and event planners can order 650g catering packs directly. All orders are invoiced and proof of payment is required before delivery.
Get in touch here!